Certified Facilitator Addiction Awareness
ICARE CFAA – More Information
You have the needs. We have the solutions.
Substance misuse costs the US Economy $740 billion annually. Businesses and communities bear this cost in lost productivity, absenteeism, turnover, accidents, theft, healthcare, insurance and compliance costs.
Over 70% of illicit users are in full or part-time employment and most users don't seek help for their problem leading to suffering in families and communities – the main reason for this silence is STIGMA.
Yet, addiction is preventable and treatable.
The missing piece surrounding addiction is a safe and proactive conversation.
Learn how you can become an ICARE Certified Addiction Awareness Facilitator and have IMMEDIATE and POSITIVE IMPACT in your workplace or community.
According to the U.S. Center for Disease Control and Prevention (CDC), Awareness and Health Education are proven Universal / Primary Prevention strategies. Such strategies are the most cost effective and have the greatest impact on reducing specific health problems across people in a defined population. Effective Awareness efforts reduce risk factors and promote protective factors which strengthen individual knowledge, skills and attitudes.
The missing piece in prevention efforts for substance misuse has been an effective strategy to reach a broad Adult population in both community and workplace settings. Current prevention funding is targeted for children/ youth or for specific substances.
Watch this short video on Stigma of substance Abuse
Here's What We'll Be Covering in Each Part…Module Overviews
Part 1: Lunch and Learn Content
What addiction is and is not
Costs and consequences of addiction
Costs of addiction in the workplace
Stages of addiction
Disrupting stigma
Part 2: Delivering Your Content
Use active learning to stimulate and engage participants. Deliver your content using a model that is:
Strength-based and grounded in Positive Psychology
Present & Mindful rather than Abstract or Lecture focused
Uses Appreciative Inquiry, Neuroscience and Experiential Learning Theory
Part 3: Resiliency Training
Experience additional training on building resiliency in recovery
Learn to deliver a Resiliency Workshop
CFAA-HR Program Parts 4-6
Part 4: Understanding Opioid and Other Drug Use & Addiction
Drug facts and commonly used drugs
Brain Imaging
Workplace Prevention
Guide to Addiction Language
Part 5: Substance Misuse and Workplace Culture
Waves of the Opioid Crisis
Biological & non-biological risk factors
Recovery Facts
Health Risk Assessment
Part 6: Create a Recovery Supportive Workplace
Drug Free, Recovery Friendly and Recovery Supportive Workplaces
Program Examples
Tools to create your Workplace Plan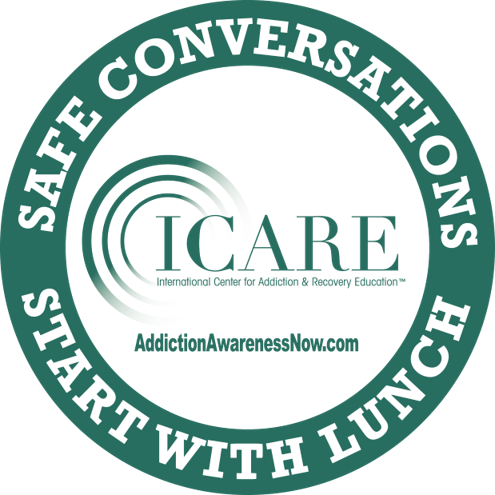 Break the Silence…Start with Lunch
Become an IAPRC Certified Addiction Awareness Facilitator and Together We Can:
Reinvent the Conversation about Addiction
Optimize Best Practices from Wellness, Prevention & Recovery
Build Resilience, Change Lives, Families, Businesses & Communities through Practical, Engaging & Safe Conversations
Raise Awareness and Break the Silence Caused by Stigma
IAPRC – International Association of Professional Recovery Coaches, NAADAC provider #81888, Select CCE's from ICF – International Coach Federation, Canadian Council of Professional Certification, FL Certification Board #22, Florida Board of Licensed Social Workers, Mental Health Counselors, Marriage & Family Therapists #50-27934